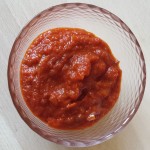 The one time I had store-bought ketchup in the house was when I had read that it was possible to clean old things made of copper with it. That did not work so well, so out went the ketchup.
I am not big on 'sauce' or gravy (unless it is part of a curry or other casserole-type dish), but I often miss some kind of a dipping sauce which is both relatively healthy and flavourful. Completely by chance, I was served home-made ketchup in Hotel Radisson Blu in Zürich when due to a flight delay I had to stay the night there (courtesy of Swissair) recently. It was so good and it inspired me to try making my own.
If you live in a country where tomatoes have flavour, by all means use fresh ones. (I don't. I live in Denmark where nothing tastes of anything). If you do use fresh tomatoes, you need about 2 kilos, peeled and drained.
 Homemade ketchup
3 tblsp olive oil
2 onions, chopped
5 cloves garlic, chopped
1 knob fresh ginger, grated or finely chopped
1 large chili pepper, finely chopped (cayenne powder if you don't have fresh chilies at hand)
1 long or 2 short cinnamon sticks
5 large cloves
8 cardamom pods, slightly crushed
1 tblsp tomato concentrate
1 glass (approx. 680-700 g) mashed tomatoes (you can of course use tinned tomatoes – I just try to avoid tinned food)
1 tsp turmeric powder
1 tsp mustard powder
2 dl apple cider vinegar or white wine vinegar
2 tblsp maple syrup (or palm sugar or brown sugar)
Water, if necessary
Sizzle onions, garlic, ginger, chili pepper, cinnamon, cloves and cardamom pods in the oil over medium heat till the onions start to soften.
Add the tomate concentrate and stir.
Add the mashed tomatoes, and then the vinegar (first use the vinegar to rinse out all the tomato puree from the glass).
Add turmeric powder, mustard powder, maple syrup, a bit of salt and black pepper.
Simmer slowly for about an hour, stirring frequently, adding water if it gets too thick.
Cool, remove whole spices, drain through a sieve if you like a smoother texture, and blend if you want it completely smooth.
Can be frozen in smaller batches.
Next time, instead of the cinnamon, cloves, cardamom and turmeric I will try using some more Mediterranean flavours such as fresh or dried basil, thyme and rosemary and some dried coriander. And perhaps some oregano, cumin and dark chocolate for a Mexican touch.