Bilbao, Tarragona and Valencia, June 2014
Bilbao 22-23 June
(Click photos to enlarge)
Frank Gehry's Guggenheim Museum (it was not allowed to take photos inside):
More impressions from Bilbao:
A trip to the Atlantic coast
Sopelana is one of several beaches within easy reach from Bilbao. Take Metro line 1 towards Plentzia to Sopelana (Sopela), go one block up and take the bus that goes between the station and the beach every half hour, or walk a little less than 2 km. Head for Hotel Goizalde (from there you can see the sea), and – overlooking the beach – El Peñon.   By the way, none of the eateries open till 13.00 hrs.
24 June an early-morning train ride to Tarragona
A misty morning en route:
And after a comfortable six-hour train ride, arriving in Tarragona in pouring rain, thunder and lightning: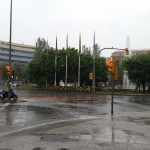 PS: Be aware that Camp Tarragona, the station for regional trains, is miles away from the centre of Tarragona, and seemingly in the middle of nowhere. There is another station in the centre of Tarragona, but many regional trains do not go there. There is a bus, on paper every half hour, but I waited almost an hour and half before it came. It goes to the main bus station in Tarragona at the bargain price of 2 euro.
The weather cleared in time for a late afternoon walk around the old part of Tarragona:
25 June: Pont de les Ferreres (Roman aqueduct) and "Local forum"
This Roman aqueduct, aka Pont del Diable, is only four km away from the centre of Tarragona (Plaza Imperial). Take bus 85 there in about 15 minutes and then follow the signs. To return to Tarragona, you have to take the bus from the same place and go all the way around. This trip takes about 35 minutes.
If you want to make a day of it, it is a beautiful nature area with well-marked hiking trails. I did not see any signs of any pitstops, so bring your own sustenance.
Back in Tarragona: Castell Monument by Fracesc Angels.
A visit to the 'Local Forum' or 'Colonial Forum' dating back to year 30 BC:
The market:
And of course the beach:
26 June: A mid-morning bus ride from Tarragona to Valencia
The first couple of hours were quite scenic, the last part less so. After about 2,5 hours the bus stopped for 45 minutes at a motorway cafeteria with relatively decent food (and really good coffee …..).
26 to 29 June: Valencia
Jardin del Turia used to be a river but got diverted after a devastating flood in 1957, and the riverbed is now a very, very long park below street level, flanked by busy one-way streets and crossed by many rivers. There are walking/jogging and bike paths, playgrounds, a zen garden, and spaces for outdoor concerts. In places, it is wide enough for a football patch, tennis courses, and even the occasional travelling circus. It also has a great variety of flowers, bushes and trees.
The central market in Valencia is 8.160 square metres of pure food paradise:
City of Arts and Sciences, Designed by Santiago Calatrava and Félix Candela, comprises a.o. an imax cinema and planetarium, one of Europe's largest aquariums, an interactive science museum and an opera house and performing arts centre.
Bioparc (Valencia zoo):
Some impressions from the historical centre of Valencia (which unfortunately is not car free):
Unfortunately, contemporary art seems to be sadly lacking in Valencia. These three galleries are listed, but I did not have time to visit: Kessler Contemporary, Tomás March Gallery, Galeria Puchol. For next time, then. I am definitely not done with Valencia.