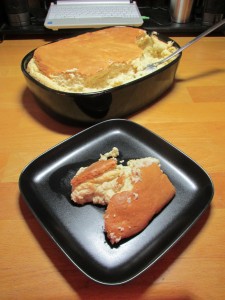 3-4 large heads garlic, left whole, plus 4 garlic cloves, crushed
1-2 tblsp olive oil
½ l whole milk
1 medium onion, sliced
3 large thyme sprigs, or mix of thyme, oregano and rosemary
2 bayleaves
1 whole clove
10 black peppercorns
1 green chili, sliced
7 tblsp butter
75 g plain wheat flour
4 large eggs, separated
4 additional egg whites
200-300 g crumpled or grated goat's cheese (I guess other cheeses such as gruyère and parmesan will do if you do not like goat's cheese)
1 pinch grated nutmeg
Heat oven to 200°C.
Cut the tips off the whole heads of garlic, place them on a large sheet of foil and drizzle each with 1 teaspoon oil. Wrap them together in foil and bake till very tender, 50 minutes to 1 hour. When they are cool enough to be handled, squeeze the garlic out of the skins.
Meanwhile, bring milk, crushed garlic cloves, onion, herbs, bay leaves, clove, and peppercorns to the boil in a medium saucepan, remove from heat, cover and leave to infuse for 30 minutes.
Butter a gratin dish (the one on the photo measures 22 cm x 30 cm and is 7 cm deep) thoroughly  with 1 tablespoon butter.
To start the roux/bechamel, melt remaining 6 tablespoons butter in a heavy medium saucepan and whisk in the flour. Cook over low heat, whisking constantly, 5 minutes.
Strain milk mixture through a fine-meshed sieve, then add to roux, bringing it to the boil, whisking, then simmer, whisking, for a couple of minutes.
Remove from heat and whisk in the eggyolks one at a time.
Whisk in roasted garlic, 1 teaspoon salt, and a pinch of pepper.
Fold in the cheese.
Beat egg whites with a pinch of salt until they stay in the bowl when you turn it upside down. Then stir one-third of the egg whites into the bechamel/yolk mixture to loosen it and then fold in the remaining whites.
Transfer mixture to gratin dish and bake at 200°C for 20 to 30 minutes. It should go quite brown and crisp on top.browned on top.
Serve with a salad or a soup (or both).