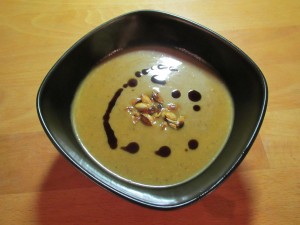 This soup gets its creamy texture from the silken tofu. Double cream would of course have the same effect but would make the soup a lot less healthy.
1.5 kg pumpkin (after peeling, trimming and dicing)
1 tblsp olive oil
2 onions, coarsely chopped
4 garlic cloves, coarsely chopped
2 red chilies, deseeded and sliced or 2 tsp chili powder (or whichever form you prefer and have available, and in the quantities you like)
1 knob of fresh ginger, coarsely chopped
2 tblsp roasted, ground coriander
1 tblsp roasted, ground cumin
10 green cardamom pods
300 g silken tofu, diced, but since everything will be blended, it does not matter what it looks like
1 l stock (whichever you prefer, in this case I used duck stock since, due to the season, I had some available)
Juice of 1 orange
A spinkle of hijiki (seaweed) (optional – I just like to add a bit in many things for its health benefits).
Heat the olive oil and soften onions and garlic on medium heat for a couple of minutes, then add ginger, chili, coriander and cardamom, stir, and fry for another couple of minutes.
Fry the pumpkin dice till they start to develop brown flecks, in batches on a large pan (can also be done in the oven), and add them to the onion mixture. Continue cooking for a couple of minutes.
Add the stock, tofu and orange, and simmer for about 20 minutes, till the pumpkin softens.
Liquidise thoroughly and reheat. Serve with fried, salted pumpkin seeds and a drizzle of the best pumpkin seed oil you can find. I have just discovered the one they make here: www.passero.si when a bottle of it was given to me as a present. It is absolutely delicious. They ship all over the world.