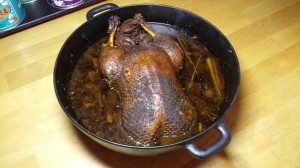 I love duck, and I am so glad they can be easily found in the shops this time of year. This version is my current favourite and I make it several times each season.
The meat keeps for days, and can of course be frozen, and is delicious for breakfast, lunch and dinner, thinly sliced in salads, shredded, with hoisin sauce, in wraps, etc.
A tip: Obviously, the skin does not become crispy using this recipe, but, you may be able to peel it off, sizzle it on a hot pan, and leave it on kitchen towel to crispen up.
1 duck, minimum 3 kilo
Three tblsp fivespice powder
40 g fresh turmeric
40 g fresh galangal
6 garlic cloves
3 tblsp sesame oil
18 peeled whole shallots
5 lemon grass stalks, halved lengthwise and slightly crushed
6 cinnamon sticks (Ceylon or Sri Lanka – NOT Cassia)
12 star anise
18 whole cloves
Sliced chili peppers (optional, to taste)
6 dl light soy sauce and 1,5 dl dark soy sauce
4 tblsp palm sugar
Rub the duck thoroughly, inside and outside, with fivespice powder. Refrigerate uncovered for at least eight hours, or overnight.
Chop turmeric, galangal and garlic cloves and grind to a smooth paste. In a heavy-bottomed pot, heat sesame oil and stir in the spice paste till it becomes fragrant.
Stir in whole shallots, lemon grass stalks, cinnamon sticks, star anise, cloves, chili and the two types of soy sauce.
Add palm sugar and stir till the sugar has dissolved.
Place the duck in the pan, 'baste' by turning it in the liquid, and add 6 dl water and bring to the boil. .
Continuing to turn the duck over every hour, cover and simmer very gently for 3-4 hours or until the meat starts to fall off the bones. In fact, in some cases the entire carcass falls apart when you try to shift it, so don't expect anything like a traditional, photogenic, roast duck.
I freeze the juices/fat to reuse at least one more time.